Hylagen - Number 1 for Laser Hair Removal Ireland and Laser Hair Removal Northern Ireland
Hylagen are the most experienced laser hair removal clinic in Ireland and UK and have been administering laser hair removal with IPL lasers for many years.
Our hair removal treatments are carried out by expert staff with unrivalled experience. The standard of our products and laser equipment is second to none and we are able to offer this at unbeatable prices, usually 50% of what is paid in Dublin.
Hylagen runs clinics in Derry, Dungannon, Newry, Belfast and Dublin. If you are looking for laser hair removal derry or laser hair removal newry, then please get in touch with us today. We also offer laser hair removal belfast and laser hair removal dungannon to allow us to service customers across the country.
Click for general information about laser hair removal and remember that no matter where you are located we have a clinic nearby. Hair removal clinics are located in Dungannon, Derry, Dublin, Belfast and Newry.
Laser Hair Removal
---
Permanent Laser hair removal from Hylagen Clinics could be just what you need to create a body that's soft and silky smooth from head to toe without embarrassing and unwanted hair. Imagine no pain form waxing or rashes from shaving. Hair removal Newry. IPL Laser hair removal clinic. Laser hair removal prices.
We're one of Ireland's leaders in permanent laser hair removal, with the expertise to remove unwanted hair almost permanently from your upper lip, chin, forearms, under arms, legs, bikini line, back or any other area of unwanted hair. So if you've shaved waxed and plucked but still can't get rid of unwanted body hair, you can trust Hylagen's laser hair removal procedure to more than do the job for you.
Why choose permanent laser hair removal from Hylagen?
Here at Hylagen, we believe in achieving beautiful effects through the art of science. That's why we favour permanent laser hair removal over electrolysis or any other painful and time consuming treatment.
Electrolysis can be painful, may leave scars and is only suitable for small areas of your body. Permanent laser hair removal, on the other hand, is suitable for both large and small areas, delivering minimal discomfort and excellent results.
Trust Hylagen for permanent laser hair removal that really makes a difference to the way your body looks and feels.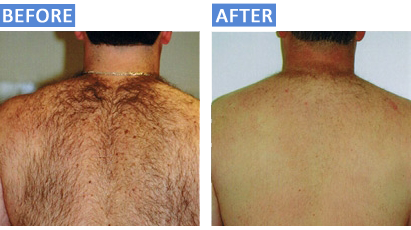 Frequently asked questions
How does laser hair removal work?
The laser uses a beam of light which penetrates the skin and is absorbed by the pigment colour in the hair where it is converted to heat. This heat travels down the hair shaft to the hair root and destroys it so that further hair cannot grow.
Because hair has different growth phases and the treatment only works in the active growth phase, several treatments are necessary to achieve a lasting result.
The number of treatments depends upon the hair density, colour and skin type and treatment area.
Typically 4 – 6 treatments are required.
As the treatment depends on the laser energy being absorbed by the pigment colour of the hair, it is not possible to treat white, grey, platinum blond or very light shades of hair by laser.
How long does laser hair removal take?
This depends on the area being treated for laser hair removal and ranges from 15 minutes for the upper lip or chin and bikini line, to 60 minutes for the back or the legs.
Is laser hair removal safe?
As we only use a beam of light to remove the hair, it is a non-invasive procedure which is perfectly safe. The laser settings used are individually chosen for your skin type and hair colour to minimise the risk of any significant skin reaction. This is also helped by the use of a water cooled tip on the laser hand piece that protects the skin from thermal injury.
Is laser hair removal permanent?
It is always possible for new hair to grow after any form of hair removal treatment. However, laser treatment is the nearest we can get to achieving excellent long-term results. Occasionally it is possible to see the re-growth of small amounts of hair over a period of time, but this is usually weaker and lighter in colour and can be quickly treated again if necessary.
What does laser hair removal cost?
The cost of laser hair removal depends on how long it takes to carry out the procedure. This, in turn, depends on the surface area being treated. Larger areas like the legs or back are more expensive than the lips or chin. But we at Hylagen pride ourselves at being the most affordable anywhere on the island of Ireland.