Permanent Makeup
Permanent Makeup to Look Your Best Any Time of the Day
---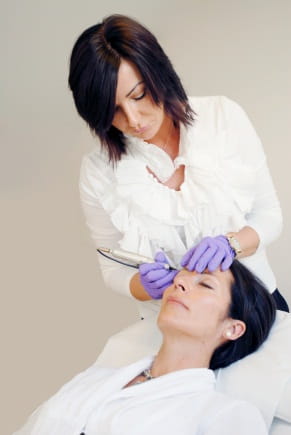 Permanent makeup allows you to look great at all times without hours of effort, and no matter what the weather. First thing in the morning, middle of a sultry afternoon or at the end of a long wet day, you can still look and feel like a star.
Women are under constant pressure to look their best. Appearance affects confidence and sometimes gets in the way of social interaction. Permanent makeup makes your life easier by giving you a well-dressed persona any and every time you need.
Hylagen offers permanent makeup procedures that will turn your dream look into a stunning reality. Full lips, shapely eyebrows and dramatic eyeliners; we do it all. Our accomplished doctors and nurses have extensive experience with cosmetic procedures and facial aesthetics. They will listen to your needs and create an attractive new look that doesn't require hours in front of a mirror every day.
Clients from all over Ireland and Northern Ireland including Belfast, Dublin and Newry come to us for…
• Eyebrow treatments for a thicker, brighter and more youthful look
• Permanent eyeliners (from intense black to shades of olive, denim blue or even ultra violet) specially blended to enhance their natural colouring
• Lip enhancements that improve volume, shape and symmetry
Looking beautiful is easier now! Call Hylagen for a permanent makeup consultation with one of the most experienced cosmetic artists in the UK and Ireland. Reach us on 02830251833 or from Republic of Ireland on +442830251833.

A Free, No-Obligation Consultation with the Permanent Makeup Expert
---
Hylagen's permanent makeup procedures help you look and feel fabulous without stretching your finances. All our cosmetic treatments including Botox, lip enhancement and laser hair removal comply with the highest standards of safety and are amongst the least expensive. We're half the rate of Dublin, and sometimes even Belfast and other clinics in Northern Ireland.
We offer a free no-obligation consultation with veteran makeup artist Yolanda Houston:
• To understand your requirements
• Offer a professional opinion on what's best for you especially when it comes to your safety
• Offer friendly advice on what's possible and what results you can expect
• Guide your choices for more satisfying and natural looking results
Read what our Republic of Ireland and Northern Ireland clients say about Hylagen's satisfying permanent makeup procedures.
Hylagen's reputation as a first-class clinic for cosmetic procedures is the result of tried-and-tested products, a qualified and experienced team, and a warm and professional atmosphere. We employ the latest techniques, procedures and equipment to serve you. Our clients come to our clinics in Newry, Northen Ireland (main), Magherafelt (monthly), Belfast and Londonderry (weekly). Our services and low pricing are unbeatable!
Fill out our online form to request a free permanent makeup consultation. Or call us and ask about our 40% discount on laser hair removal.