Skin Tightening
Skin Tightening, Firming and Toning
---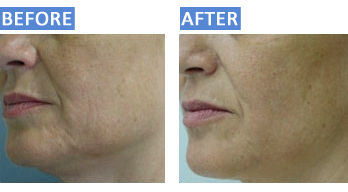 The right skin tightening treatments can help you regain a firm and youthful look. It works well for men and women with mild to moderate laxity rather than after weight loss. More significant sagging may require surgery rather than just skin firming or toning.
Hylagen's innovative Accent™ Radiofrequency Remodelling is a scientific breakthrough in skin tightening treatments. It provides excellent skin toning and firming without pain or downtime.
Radiofrequency is a tried-and-tested process in which the heat produced by the hand piece causes an instant tightening of the collagen as well as increases its production in the dermis. It is applied in a circular motion on the surface of the desired area like the face. In body treatments it is known to increase local blood circulation, promote breakdown of fibrous tissue, drainage of fatty deposits into the lymphatic system and disintegration of fat cells.
Clients from all over the UK and Northern Ireland including Dublin, Belfast and Newry seek our new-generation skin firming and rejuvenation treatments for:
• Tightening and lifting flaccid areas of the face
• Reducing wrinkles
• Increasing luminosity of skin
• Mild to moderate skin tightening and toning of body areas
Tone and rejuvenate your skin in a comfortable and affordable manner! Call Hylagen for effective skin tightening at one of the most affordable clinics in the UK and Ireland on 02830251833 or from Republic of Ireland on +442830251833.
Skin Tightening without Pain or Downtime
---
Client safety and comfort are always the main focus of all Hylagen procedures. Whether it's skin tightening, skin rejuvenation, Botox, lip enhancement or laser hair removal, your comfort and safety is a priority for us. Our skin firming and toning treatments are popular not just because of the excellent results and low pricing but also because there's no pain or downtime.
• Your first treatment takes 45 to 60 minutes (depending on the area being treated)
• Subsequent appointments last for 30 to 45 minutes
• Facial remodeling usually requires a course of 4 to 6 sessions at 4 week intervals
• Body treatments may include 6 to 8 skin tightening sessions (to be determined by your consultant)
• More stubborn cellulite, however, may require more frequent treatments
Read what our clients in UK and Ireland say about Hylagen's ground-breaking radiofrequency skin tightening treatments.
Over the years Hylagen has become one of the busiest clinics in Northern Ireland. Professionalism, innovative procedures, high standards of care, warm and comfortable environment are all part of our regular service at Newry, Northen Ireland (main), Magherafelt (monthly), Belfast or Londonderry (weekly). Our services are affordable and among the best you'll find in the region.
Fill out our online form for a confidential skin tightening consultation. Or call us for more information and also enquire about our 40% discount on laser hair removal.